Spa Day in a Ball® Jar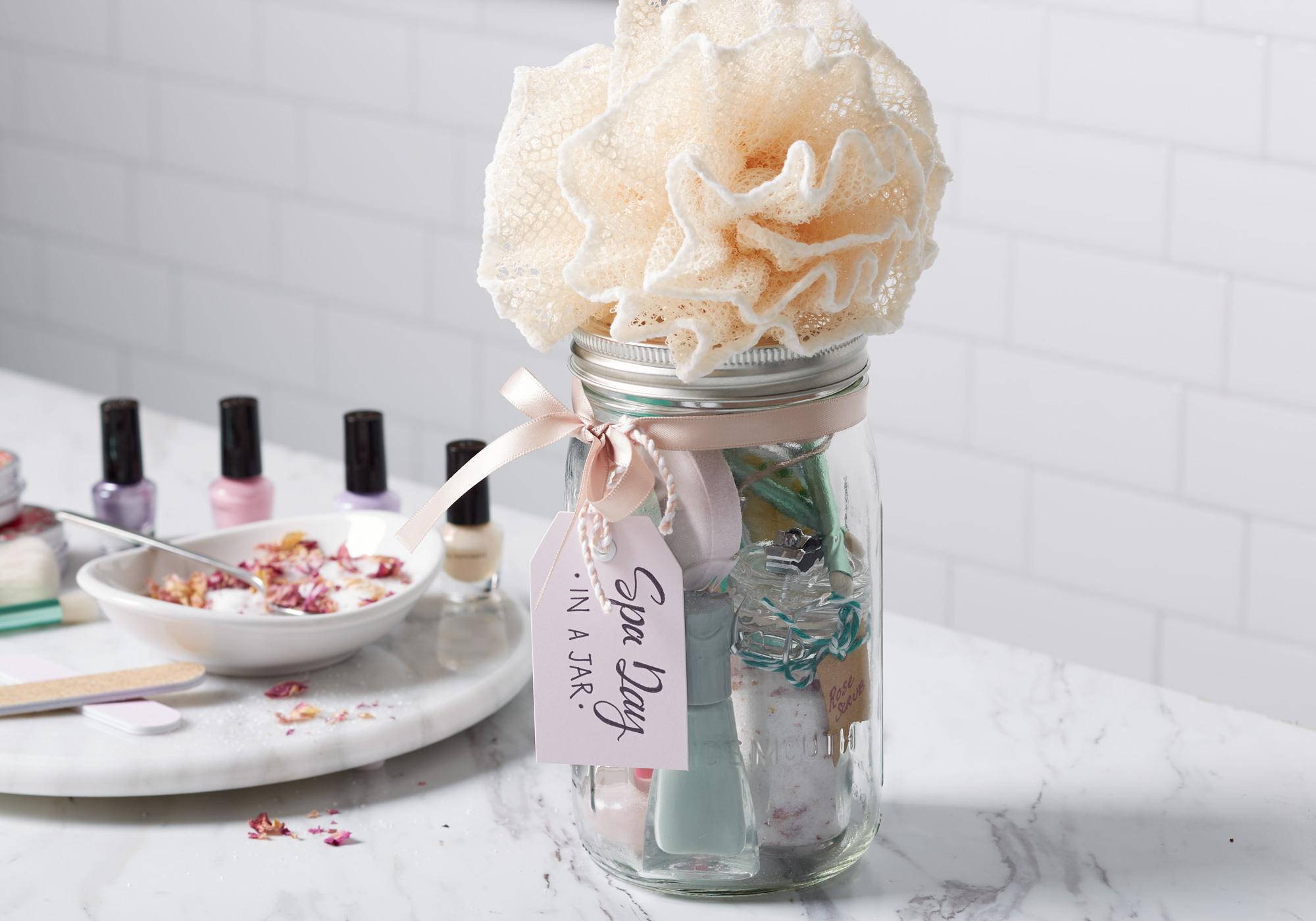 Looking for the perfect homemade gift for Mom, or for a friend who could use some pampering? Give a spa day in a Ball® jar. Simply fill a Ball® jar with some of their favorite goodies and add a loofah on top for a creative bow!
This also makes for an excellent bridesmaid gift—fill the jar with a nail polish that matches your wedding colors or bridesmaid dresses. This gift in a jar can even be modified for Dad—filled with men's grooming tools, travel face wash, and beard oil! A thoughtful, personalized jar is easy to make and will impress anyone who is lucky enough to receive it.
---
Supplies:
Ball® Wide Mouth Quart (32 oz)
A loofah (or any other fun item for your "bow")
Spa-day inspired items (Choose a color scheme to stick to for a cohesive look.)
Decorative tag (optional)
Spa day ideas to get you started...but make it your own and personalize for your giftees:
Nail Polish
Nail file or buffer
Nail clippers
Face mask packet
Pumice stone
Hand cream
Bath bomb
Lip gloss or balm
Hair ties or accessories
Foot Scrub
Essential oils
Potpourri sachets
Body scrubs (salt, sugar, etc.)
Travel-size face cleanser
Travel-size lotion
Towel tablets
A patterned wash cloth
Eye mask
---
Instructions:
TIP: We recommend bringing your jar with you to the store when shopping to make sure everything you want can fit inside, or measure and do the math.
Step 1: Fill jar with spa items - we recommend placing larger items on the bottom, like bath bombs or nail polishes, and adding in smaller items on top. You can fill with confetti on the bottom for some added color or fluff.
Step 2: Tie a ribbon around the neck of the jar and attach a decorative tag that reads "Spa Day in a Jar" or add a special message to your friend who needs some pampering in their life!
Step 4: Finish off the gift by topping the lid with a loofah to look like a bow. You can simply tape it to the top of the jar for easy removal.
Step 5: Don't forget to make an extra one for yourself!