A Pantry Organization Makeover with Ball® Jars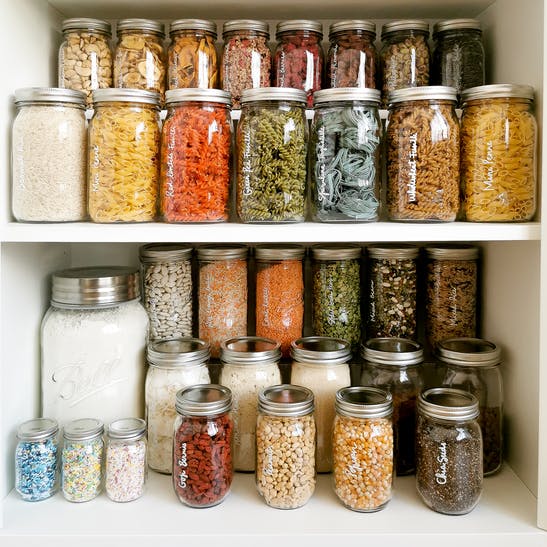 Photo credit: @homganize
Ball jars are a great option for pantry organization. The glass stays clear and clean, the jars are durable, and it's so easy to see the contents inside. With a wide variety of sizes, shapes, and lids, you can easily find the right jar for all of your pantry staples.
Getting started
So, it's time to make over your pantry, but where do you begin? There's really no wrong way to do this, but to start your pantry organization project, we recommend taking everything out of your pantry and sorting all goods by category—grains, dried fruit and nuts, baking supplies, etc. Some goods might not make it into Ball jars, so place your larger items that will remain in their packaging on your pantry shelving first, and then start to organize from there.
It's a huge help to label your Ball jars with a Sharpie or Ball's dissolvable labels, so you can easily find what you're looking for and won't mix up similar-looking items. We think you'll love having everything in clear Ball jars to easily see contents inside. This way you'll always know when it's time to restock.
What can you store in a Ball jar in the pantry or cupboard?
You can store just about anything in a sealed mason jar, but here are some of our pantry storage favorites: flour, sugar, chocolate chips, coffees, teas, dried spices, dried pasta, grains, quinoa, beans, pancake mix, pretzels, nuts, dried fruit, oatmeal, and granola. You can also store liquids in the pantry cabinet when you pair your Ball jars with Ball Leakproof Storage Lids, which come in Regular Mouth or Wide Mouth.
A few great jar/dry goods matchups:
Gallon Decorative Jars: cookies, sugar, flour, cereal, larger snacks
Half-Gallon Decorative & Half-Gallon Storage Latch Jars: oats, grains/rice/pastas, dried beans, coffee beans, tea leaves, brown sugar, smaller snacks
Quart Storage Latch Jars: chocolate chips, raisins, nuts, dried fruit, candies
Mini Jars: spices
Looking for more ways to spruce up your pantry?
Choose a decorative peel-and-stick wallpaper to use inside your kitchen pantry to brighten up the space, or paint the inside for a clean look.
You're going to love your new pantry, and the hardest part is just getting started. We recommend devoting a full day or a weekend to doing it, so you have time to get everything organized properly. You can learn more about the different types of jars, lids, and more here. Happy organizing!