How to Make a Terrarium in a Ball® Jar
Create unique gifts that will be enjoyed for a long time! Turn a Ball jar into a succulent terrarium that friends and loved ones can watch grow. (Terrariums are especially perfect for a baby shower!)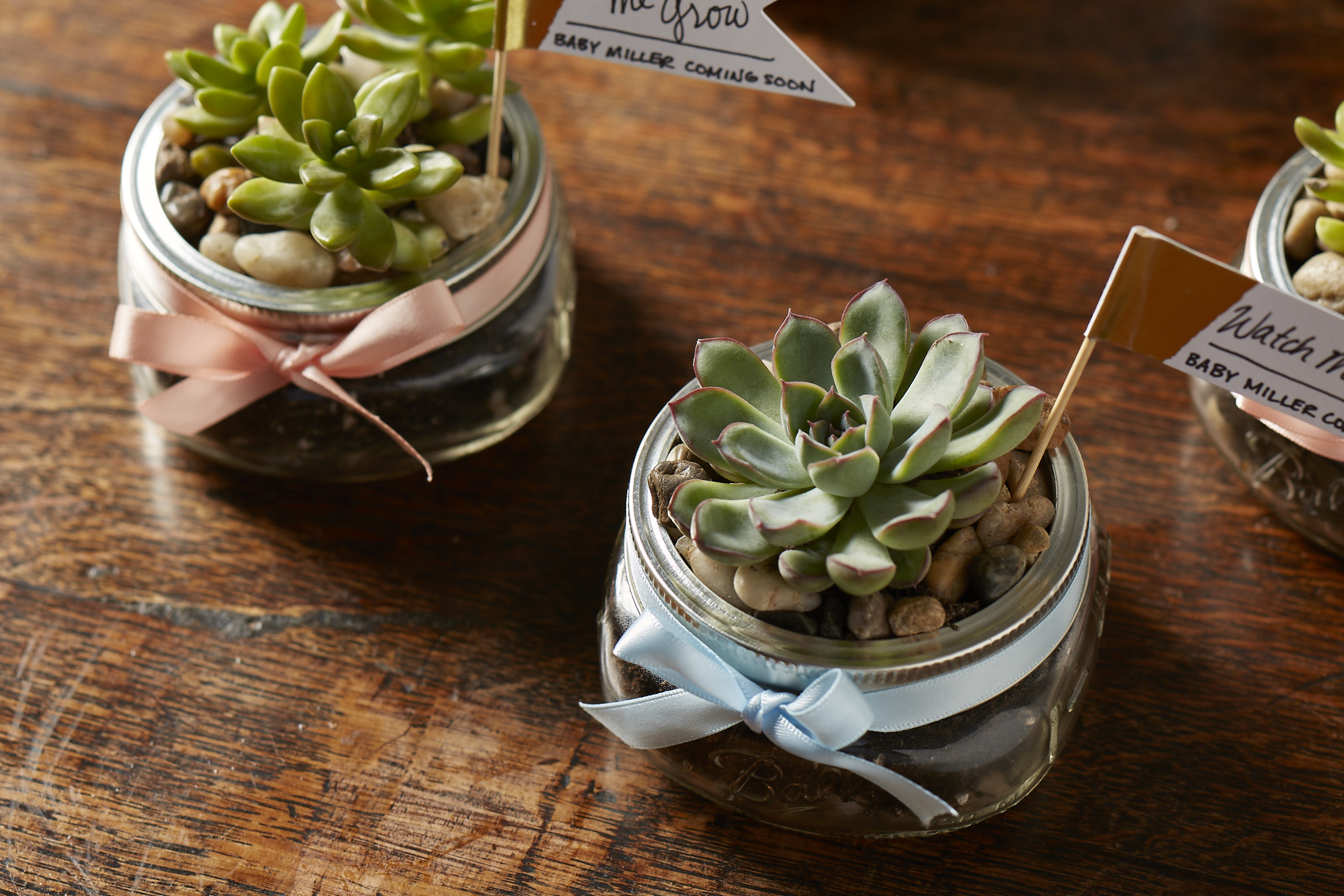 ---
Need a special gift for a friend or loved one? Do you have a baby shower, bridal shower, or intimate wedding on the horizon? Learn how to make a terrarium in a Ball jar. It's a wonderful gift that will look great as décor, and a favor guests can enjoy long after the party. Ball jar terrariums are timeless, chic…and effortless!
A Ball jar makes a great succulent planter, and adding several plants—plus some rocks or pebbles—creates an adorable mini-garden. Succulents are available year-round and are incredibly low maintenance, so a terrarium makes an especially great gift for someone who might not have a green thumb. To personalize your creation, add a tag or a sign with a fun message like "Watch Me Grow!"
---
Supplies:
Ball Collection Elite® Wide Mouth Half-Pint Jars (8 oz.) (Note: you can use other types of jars but make sure it's easy to add a bit of water from time to time.)
Cactus mix soil
Rocks or small pebbles
Succulents (any shape, size, color of your choosing)
Baker's twine, gift tags, etc. (optional)
TIP: It's best to pick out a few different sizes of succulents. You will want to select one variety as the focal point, and then a few smaller succulents in different shades. This will help you create texture and build around that focal point.
---
Instructions:
Step 1: Place a few rocks and/or pebbles at the bottom of your Ball jar, followed by cactus mix soil. This will create optimal drainage. Leave the soil on the top packed less densely, as you will be adding succulents and repositioning some of the soil.
Step 2: Gently place one of your succulent stems in the middle of the mouth of the jar. Lightly pack the stem into the soil to hold it in place. Add additional soil as needed.
Step 3: Add more rocks or pebbles to the top of the jar around the plant.
Step 4 (optional): Wrap some colorful or printed ribbon around your Ball jar terrarium, add any other decorations you want (that won't interfere with the plants inside), and top it off with your adorable handmade sign. Your gift is complete!
Step 5: To care for a terrarium, you or its new owner may want to follow these tips:
Keep terrariums out of hot sun—good but indirect light is the way to go
Leave the lid off, and keep the glass clean so light can get in
Keep them away from heat sources, like radiators
It might be good to include specific directions for watering the succulents you're gifting; they may need a bit of water from time to time, but they should not be overwatered