Ball® Bathroom Organizer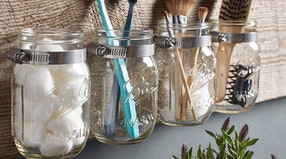 Ball mason jars can be used for just about everything and one popular use is for home décor! One of our favorite home projects is this bathroom organizer, perfect for bathrooms in need of some organizing. Using Ball jars fastened to a beautiful piece of stained wood, you're able to clear your countertop and leverage vertical wall space to create more storage. The timeless Ball jars and stained wood add a rustic charm to your home. Make it more modern by dip-dying the jars in metallic paint. We used four jars here, but you can make it your own with any size that fits your space.
Supplies:
4 Ball Pint Jars
Wood (if not pre-stained, you'll also need stain or paint)
Hose clamps (found in the plumbing section of any home store or online)
Hammer
Picture Hanging Kit
Drill, and Titanium Drill Bit
Screws
---
Instructions:
Step 1: Line up your Ball jars on a flat surface with your desired space between each. We recommend anywhere from ½" to 1". Measure the width of the spaced-out jars, allowing for some room on either side to determine the accurate size wood needed for your project.
Step 2: Place hose clamps around the neck of the jars, and mark wood with a pencil where you want the jar to be.
Step 3: Use a drill bit to get a pilot hole started in the wood where you made your markings. You will also use the drill to make a hole in the hose clamp. Make sure the holes in each hose clamp are in the same spot, for aesthetic symmetry. NOTE: You might need a titanium drill bit designed to drill through metal.
Step 4: Line up the hole in the wood with the hole in the hose clamp and screw the hose clamp into the wood. Repeat until all hose clamps are attached.
Step 5: Nail picture hangers on the backside of the wood and position onto the wall. Once securely hung, you can unscrew the hose clamps and attach your Ball® jars to the strip of wood.
Step 6: Fill jars with whatever you'd like – cotton balls, toothbrush, hair brush, bobby pins, headbands, hair ties… the possibilities are truly endless!
*Do not store food in jars after using jars for non-food alternate use.