Salsa Ranchera
Salsa Ranchera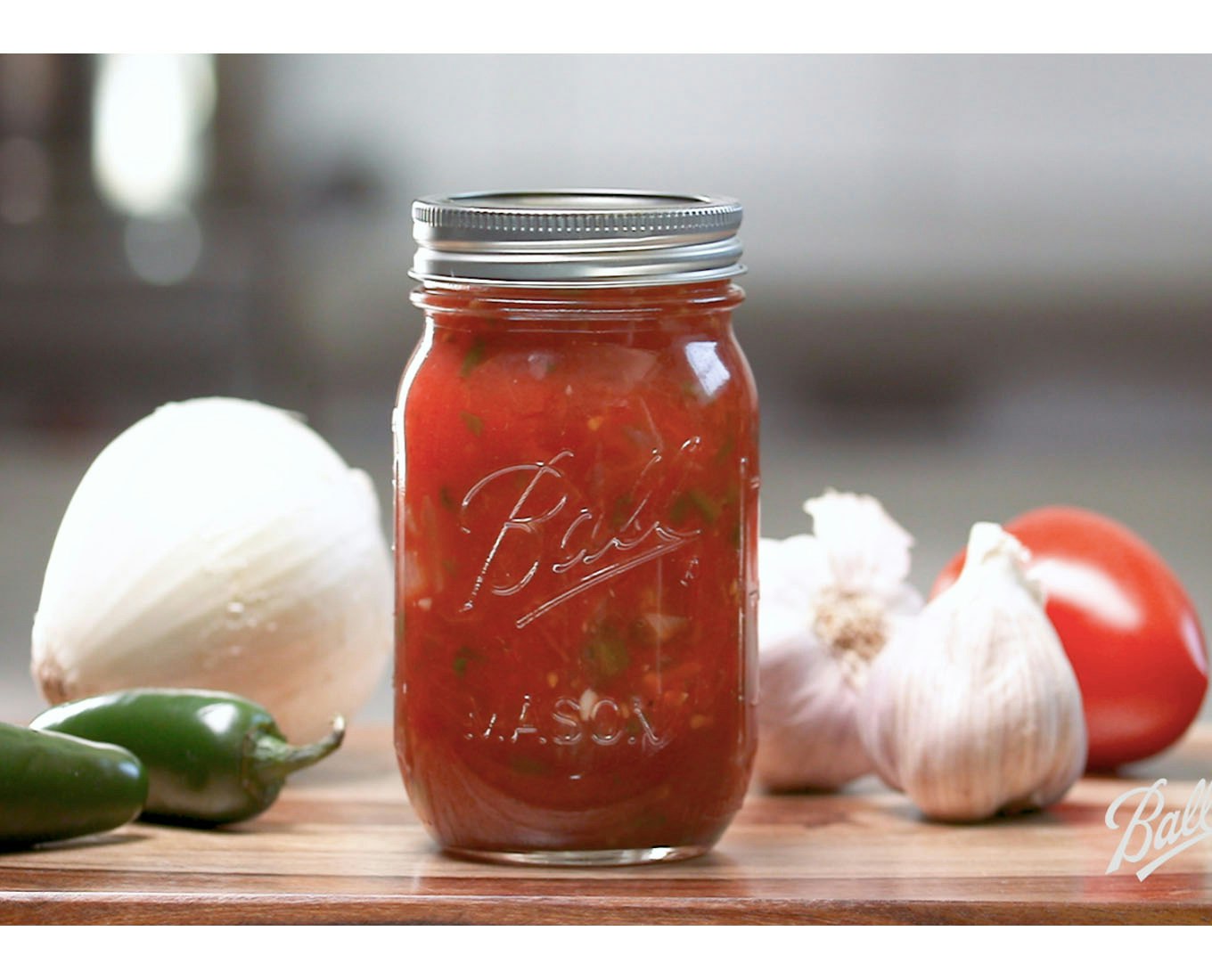 Preserving Method: Water-Bath-Canning
Makes about Makes about 4 (16 oz) pint jars
Roast tomatoes, jalapenos and onions make this picante salsa perfect for fresh, quick Mexican meals. Try with tacos, grilled steak or fish.
---
You will need
3 lb plum tomatoes, cored
¾ lb jalapeño peppers
4 garlic cloves
1 medium white onion, cut into ½ inch rings
2 tsp salt
½ cup fresh cilantro, chopped
1/3 cup fresh lime juice
Directions
PRE-HEAT oven to 425°. Cover a large rimmed baking sheet with aluminum foil; arrange plum tomatoes, whole jalapeños, garlic cloves and white onion slices in a single layer. Roast for 20 minutes; remove garlic from baking sheet and roast 20 minutes more or until vegetables are very soft and beginning to char.

TRANSFER jalapeños to a bowl and cover with plastic wrap. Let stand at least 15 minutes.

PREPARE boiling water canner. Heat jars in simmering water until ready to use, do not boil. Wash lids in warm soapy water and set aside with bands.

REMOVE skins from tomatoes. Coarsely chop tomatoes, onions and garlic; place in a medium saucepan. Peel, seed and mince jalapeño peppers; add to tomato mixture along with salt. Bring to a boil over medium heat, stirring often. Reduce heat and simmer 2 minutes. Stir in cilantro and lime juice; remove from heat.

LADLE hot salsa into a hot jar leaving a ½" headspace. Remove air bubbles. Wipe jar rim. Center lid on jar and apply band, adjust to fingertip tight. Place jar in boiling water canner. Repeat until all jars are filled.

PROCESS jars 20 minutes, adjusting for altitude. Turn off heat, remove lid, let jars stand 5 minutes. Remove jars and cool 12-24 hours. Check lids for seal, they should not flex when center is pressed.