White Kimchi
White Kimchi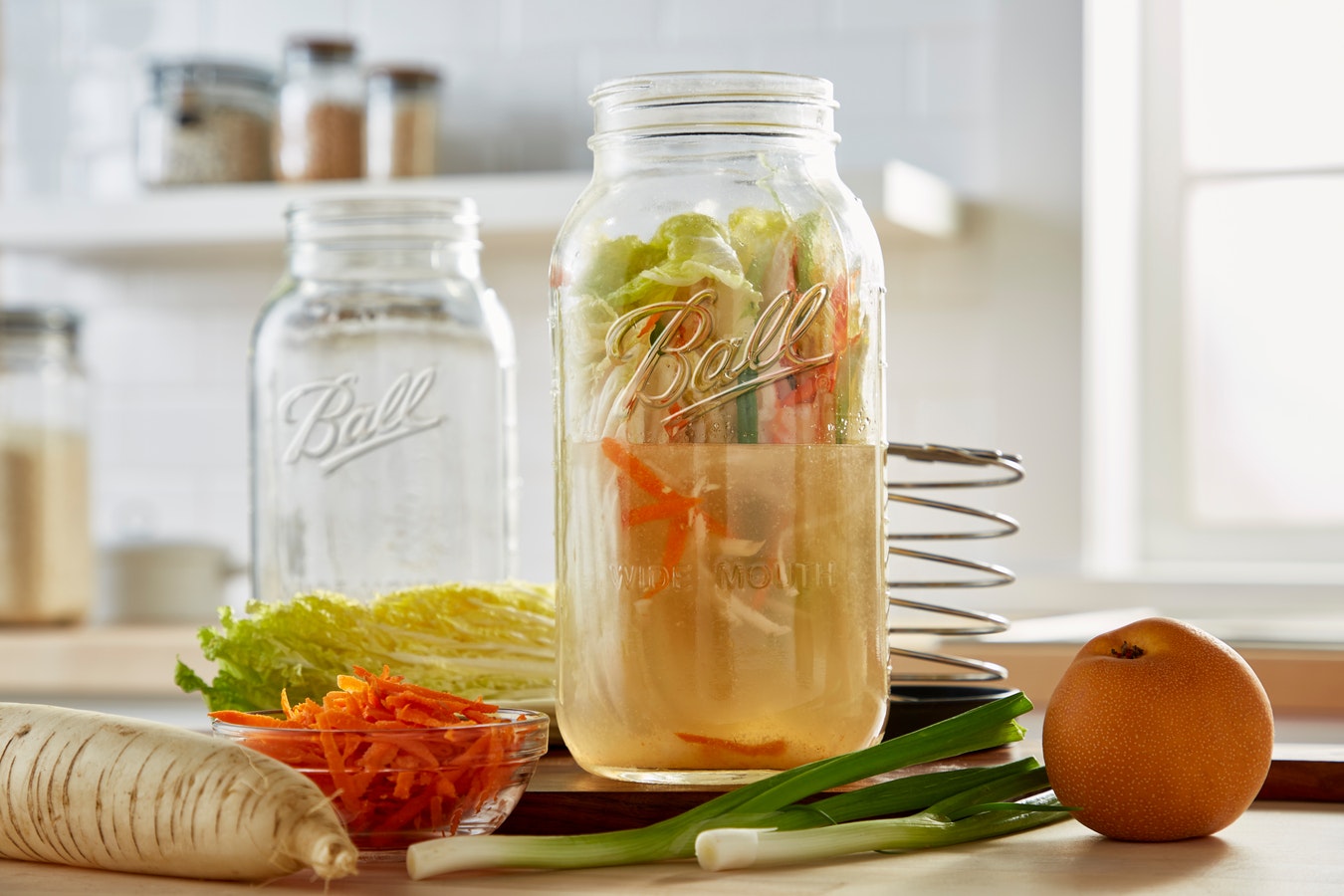 Preserving Method: Fermentation
Makes about 2 half-gallon (64 oz.) jars
This Korean-inspired recipe is a beautiful and quick ferment. The addition of Asian pear adds a sweetness to the salty garlic and ginger brine. Slice into 3-inch sections and serve cold.
---
You will need
1 head of Napa cabbage (about 2 1/2 lbs. to 3 lbs.)

4 Tbsp. salt

1 large carrot, peeled then grated

4 scallions, sliced thinly lengthwise and cut into thirds

1/2 small daikon radish, peeled then grated (optional)

1 small Asian pear or red apple, peeled, cored, cut into eighths

1 small onion, peeled and cut into eighths

2 garlic cloves, chopped

2-inch knob of ginger peeled, cut into chunks
Brine:
1/2 cup Ball® Salt

1/2 gallon (8 cups) unchlorinated water
Directions
Prepare cabbage by removing outer leaves and slicing a 1/2 inch off the bottom. Quarter the cabbage lengthwise keeping each quarter attached to the core. Rub each cabbage quarter with salt then place in a dish or bowl large enough to hold cabbage in a single layer with room for brine.

Dissolve 1/2 cup salt with the water. Pour enough of the brine over cabbages to just cover them. Reserve remaining brine. Place a plate over cabbages, add something heavy on top of the plate to help weigh cabbages down. Let cabbage sections brine for 30 minutes, then turn them over and let brine another 30-60 minutes. The firmer core sections should be pliable when finished brining.

Blend Asian pear or apple, onion chunks, garlic and ginger with a 1/2 cup of extra brine in a blender or food processor. Set aside.

Remove and drain cabbage quarters, reserving the brine. Lay a cabbage quarter flat with core section facing up; layer leaves with carrot, scallion and daikon (if using). Repeat with remaining cabbage. Place 2 cabbage sections lengthwise into a half-gallon jar laying them top to bottom inside, it helps to lay jar sideways as the quarters are pushed in. Repeat with other cabbage quarters.

Combine brine with the brine-seasoning puree; pour into each jar just to cover cabbages. You may have leftover brine to discard. (If you do not have enough brine top each jar with water to cover cabbages.) Place spring on top of cabbage, then twist lid on; brine may billow out as the spring displaces it. Wipe jars down. Place the jars on a plate and store in a cool (65°-75°F) clean place in your kitchen or pantry for 24-48 hours.

This quick ferment will be ready to eat in 2 days. Wipe jar rim and wash fermenting lid before replacing or use a traditional Ball® canning lid. Store in refrigerator up to 1 month.
Image Credit: @underatinroof