Roasted Tomato Chipotle Salsa
Roasted Tomato Chipotle Salsa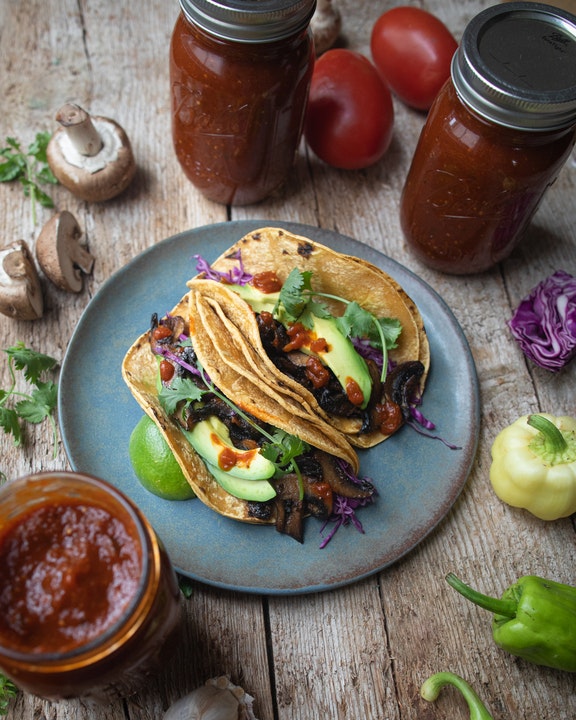 Preserving Method: Water Bath Canning
Makes about 6 (16 oz.) pint jars
For a rich, sweet and smoky salsa, try Ball®'s Roasted Tomato Chipotle Salsa. With warm smoky notes of roasted tomatoes and tomatillos mixed with chipotle peppers, this salsa captures the grilled flavor of summer. Try this Mexican inspired salsa with tacos or some chilaquiles in the morning.
---
Ingredients
12 dried chipotle chili peppers, stemmed
12 dried cascabel chili peppers, stemmed
2 lbs. husked tomatillos
2 lbs. Italian plum tomatoes
2 small onions
1 head garlic, broken into cloves
1/2 cup vinegar and 1/2 cup bottled lime juice
2 tsp sugar
1 tsp salt
---
In This Recipe
1. Toast chipotle and cascabel chilies in a large dry skillet, over medium heat, working in batches, about 30 seconds per side, until they release their aroma and are pliable. Transfer to a large glass or stainless steel bowl. When all chilies have been toasted, add 2 cups hot water. Weigh chilies down with a bowl or a weight to ensure they remain submerged, and soak until softened, about 15 minutes. Working in batches, transfer chilies and soaking liquid to a blender or a food processor fitted with a metal blade and purée until smooth. Set aside.
2. Roast tomatillos, tomatoes, onions and garlic, under a broiler, in the meantime, turning to roast all sides, until tomatillos and tomatoes are blistered, blackened and softened, and onions and garlic are blackened in spots, about 15 minutes. Set onions and garlic aside until cool. Place tomatillos and tomatoes in paper bags. Secure openings and set aside until cool enough to handle, about 15 minutes. Peel tomatoes, onions and garlic. Finely chop onion and garlic. Set aside.
3. Puree roasted tomatillos and tomatoes and reserved puréed chilies until smooth in a blender or food processor. Set aside.
4. Prepare boiling water canner. Heat jars in simmering water until ready for use. Do not boil. Wash lids in warm soapy water and set bands aside.
5 Combine tomatillo purée, roasted onion and garlic, vinegar, lime juice, sugar and salt in a large stainless steel saucepan. Bring to a boil over medium-high heat, stirring constantly. Reduce heat and boil gently, stirring frequently, until slightly thickened, about 15 minutes.
6. Ladle hot salsa into hot jars leaving 1/2 inch headspace. Remove air bubbles and re-measure headspace. If needed, add more salsa to meet recommended headspace. Wipe rim. Center lid on jar. Apply band and adjust until fit is fingertip tight.
7. Process filled jars in a boiling water canner for 15 minutes, adjusting for altitude. Turn off the heat and remove the cover. Let jars cool for 5 minutes before removing the jars from canner. Check lids for seal after 24 hours. Lid should not flex up and down when center is pressed