Plum Habanero Salsa
Plum Habanero Salsa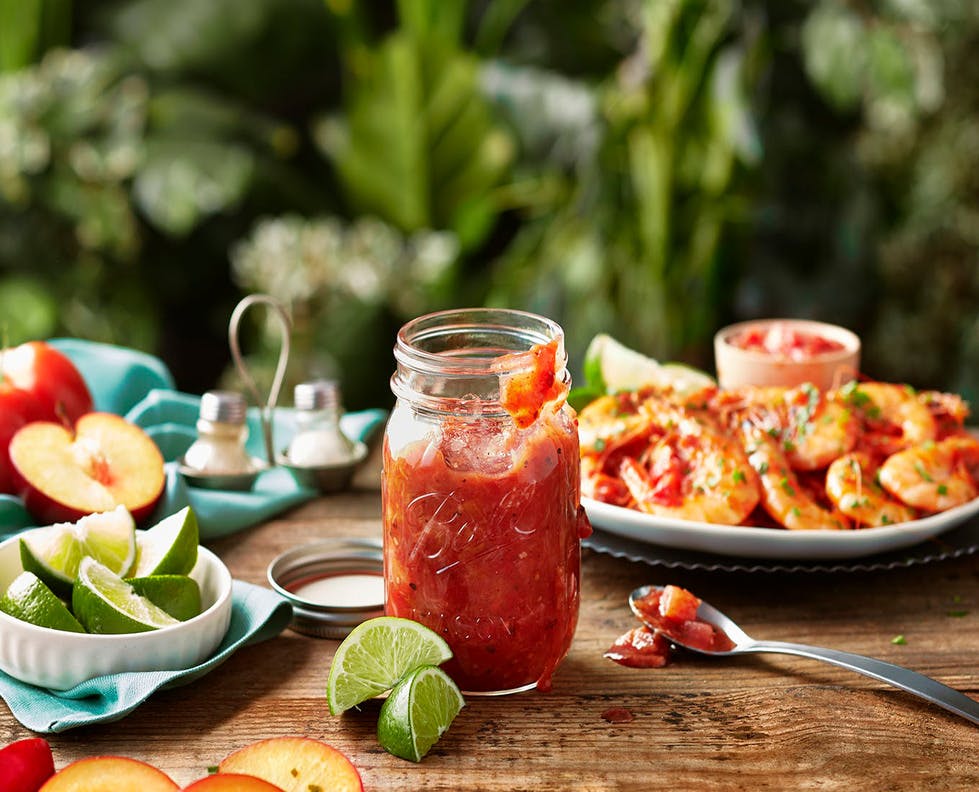 Preserving Method: Water-Bath-Canning
Makes about 4 Pint Jars
For an unexpected, tasty salsa this summer try Ball®'s Fresh Plum Jalapeño Salsa. The fresh sweet plums absorb some of the heat of the jalapeños and mix well with the tomato-based salsa. Serve this twist on a classic salsa as a topping on your grilled pork or with tortilla chips and guacamole for a party favorite.
---
You will need
2 lbs tomatoes, cored and halved
3 lbs firm-ripe plums, pitted and diced
1 medium red onion, diced, about 1 cup
2 cloves garlic, minced
2 Tbsp. Tequila (optional)
1/3 cup bottled lime juice
1 tsp salt
2 tsp coriander seeds, toasted and crushed (or 1 teaspoon ground coriander)
2-3 Habaneros, minced
Directions
Pre-heat oven to 350°

Halve tomatoes and place on a baking sheet cut side down. Roast 20 minutes then turn tomatoes over and roast an additional 10 minutes. Let cool. Slip skins, then roughly chop.

Prepare boiling water canner. Heat jars in simmering water until ready to use, do not boil. Wash lids in warm soapy water and set aside with bands.

Combine tomatoes with remaining ingredients in a stainless steel pot. Bring to a boil, then lower heat to simmer, cook stirring frequently until plums soften and salsa thickens, about 20 minutes.

Ladle hot salsa into a hot jar leaving a ½ inch headspace. Remove air bubbles. Wipe jar rim. Center lid on jar and apply band, adjust to fingertip tight. Place jar in boiling water canner. Repeat until all jars are filled.

Process jars 20 minutes, adjusting for altitude. Turn off heat, remove lid, let jars stand 5 minutes. Remove jars and cool 12-24 hours. Check lids for seal, they should not flex when center is pressed.