Pineapple Papaya Chili Salsa
Pineapple Papaya Chili Salsa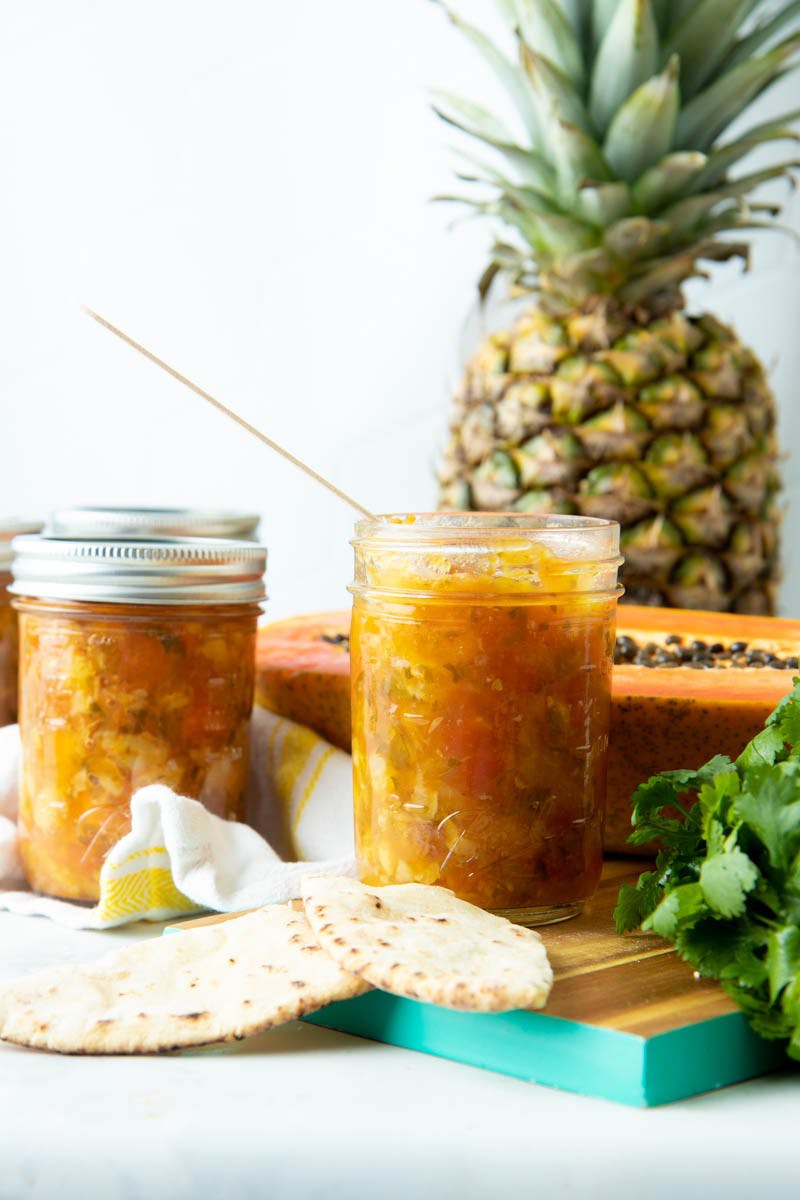 Preserving Method: Water-Bath-Canning
Makes About 6 (8 oz) half-pint jars
This tropical salsa is perfect for outdoor summer meals. Serve with grilled pita bread brushed with olive oil for a simple but delicious appetizer.
---
You will need
4 cups cubed seeded peeled papaya (about 2 lb or 2 med)
2 cups cubed cored peeled fresh pineapple (about half of a medium pineapple) or canned pineapple (about 1 20-oz can)
1 cup golden raisins
1 cup lemon juice
1/2 cup lime juice
1/2 cup pineapple juice
1/2 cup chopped seeded Anaheim peppers (poblano, New Mexico chilies or hot banana peppers may be used as a substitute)
2 Tbsp finely chopped green onion
2 Tbsp finely chopped cilantro
2 Tbsp packed brown sugar
---
Directions
Prepare boiling water canner. Heat jars in simmering water until ready for use. Do not boil. Wash lids in warm soapy water and set aside with bands.

Combine all ingredients in a large stainless steel saucepan and bring to a boil over medium-high heat, stirring constantly. Reduce heat and boil gently, stirring frequently, until slightly thickened, about 10 minutes.

Ladle hot salsa into hot jars, leaving ½ inch headspace. Remove air bubbles. Wipe jar rim. Center lid on jar and apply band, adjust to fingertip tight. Place jar in boiling water canner. Repeat until all jars are filled.

Process jars for 15 minutes, adjusting for altitude. Turn off heat, remove lid, let jars stand 5 minutes. Remove jars and cool 12-24 hours. Check lids for seal, they should not flex when center is pressed.