Pickled Roasted Peppers
Pickled Roasted Peppers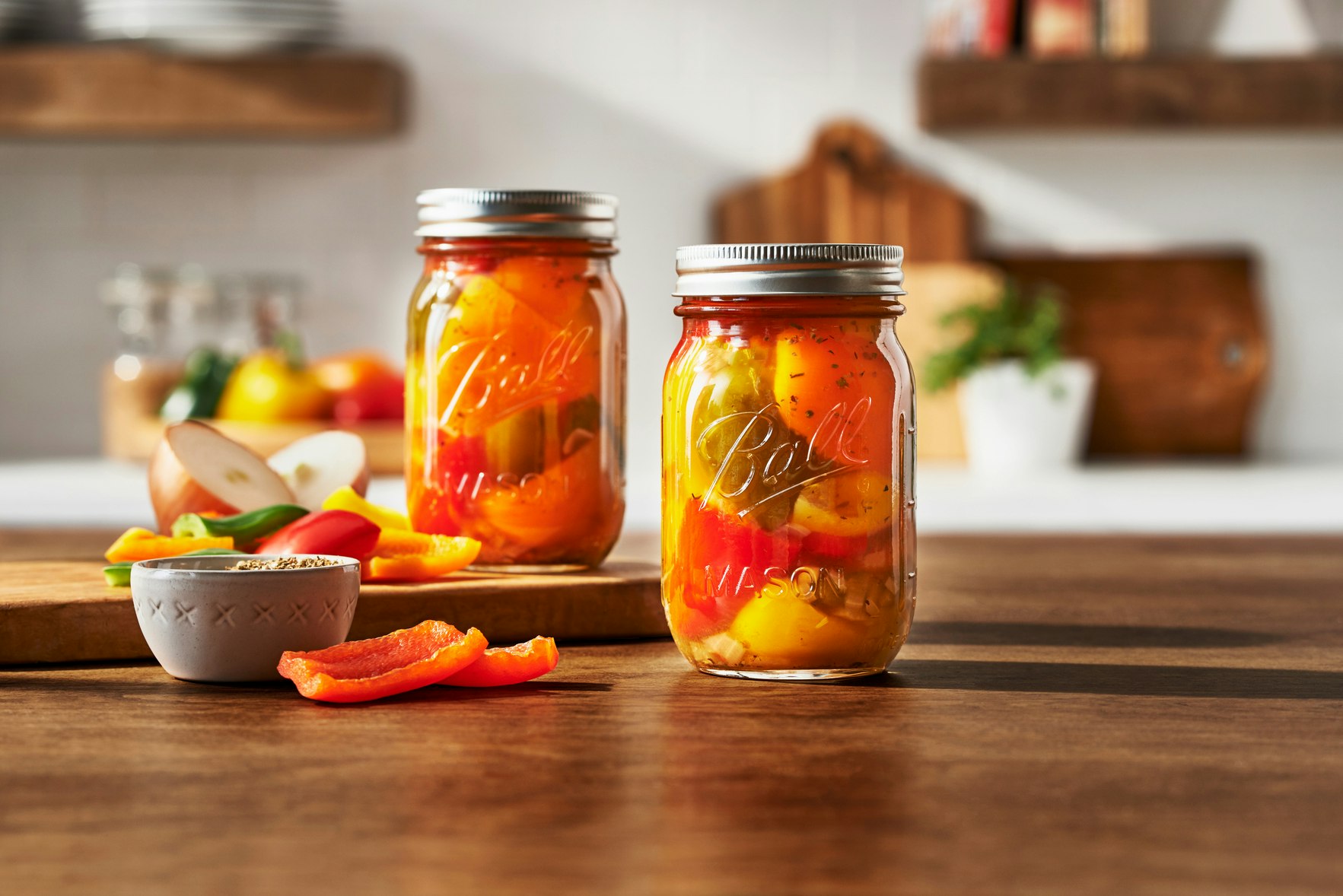 Preserving Method: Water Bath Canning
Makes about 4 (16 oz) pint jars
These versatile peppers can be used in spaghetti sauce, as a sandwich filling, to garnish a salad, to add a twist to an antipasto platter or as a gourmet pizza topping
---
You will need
20 medium sweet red peppers, such as red bell or Shepherd
4 large cloves garlic
1-1/2 cups white vinegar
1-1/2 cups cider vinegar
1-1/2 cups dry white wine
1/2 cup water
1 cup coarsely chopped onion (about 1 large)
1/2 cup granulated sugar
2 Tbsp dried oregano
4 tsp Ball® Salt for Pickling and Preserving
Directions
Roast peppers and garlic cloves over hot coals, on a grill or under the broiler until charred, turning to roast all sides. Once the skin of the peppers wrinkle and char and garlic has charred spots, remove from heat. Place peppers in a covered bowl until cool enough to handle, about 15 minutes, then lift off skins. Slice peppers lengthwise into strips. Squeeze roasted garlic cloves to remove garlic from peel.

Prepare boiling water canner. Heat jars in simmering water until ready for use. Do not boil. Wash lids in warm soapy water and set aside with bands.

Combine roasted garlic, white vinegar, cider vinegar, white wine, water, onion, sugar, oregano and salt in a large stainless steel saucepan. Bring to a boil over medium-high heat, stirring to dissolve sugar. Reduce heat and boil gently for 5 minutes.

Pack peppers into hot jars leaving 1/2 inch headspace. Ladle hot pickling liquid into jar to cover peppers leaving a 1/2 inch headspace. Remove air bubbles and adjust headspace, if necessary, by adding hot pickling liquid. Wipe rim. Center lid on jar. Apply band until fit is fingertip tight. Place jar in boiling water canner. Repeat until all jars are filled.

Process jars 15 minutes, adjusting for altitude. Turn off heat, remove lid, let jars stand 5 minutes. Remove jars and cool 12-24 hours. Check lids for seal, they should not flex when center is pressed.