Pickled Golden Beets
Pickled Golden Beets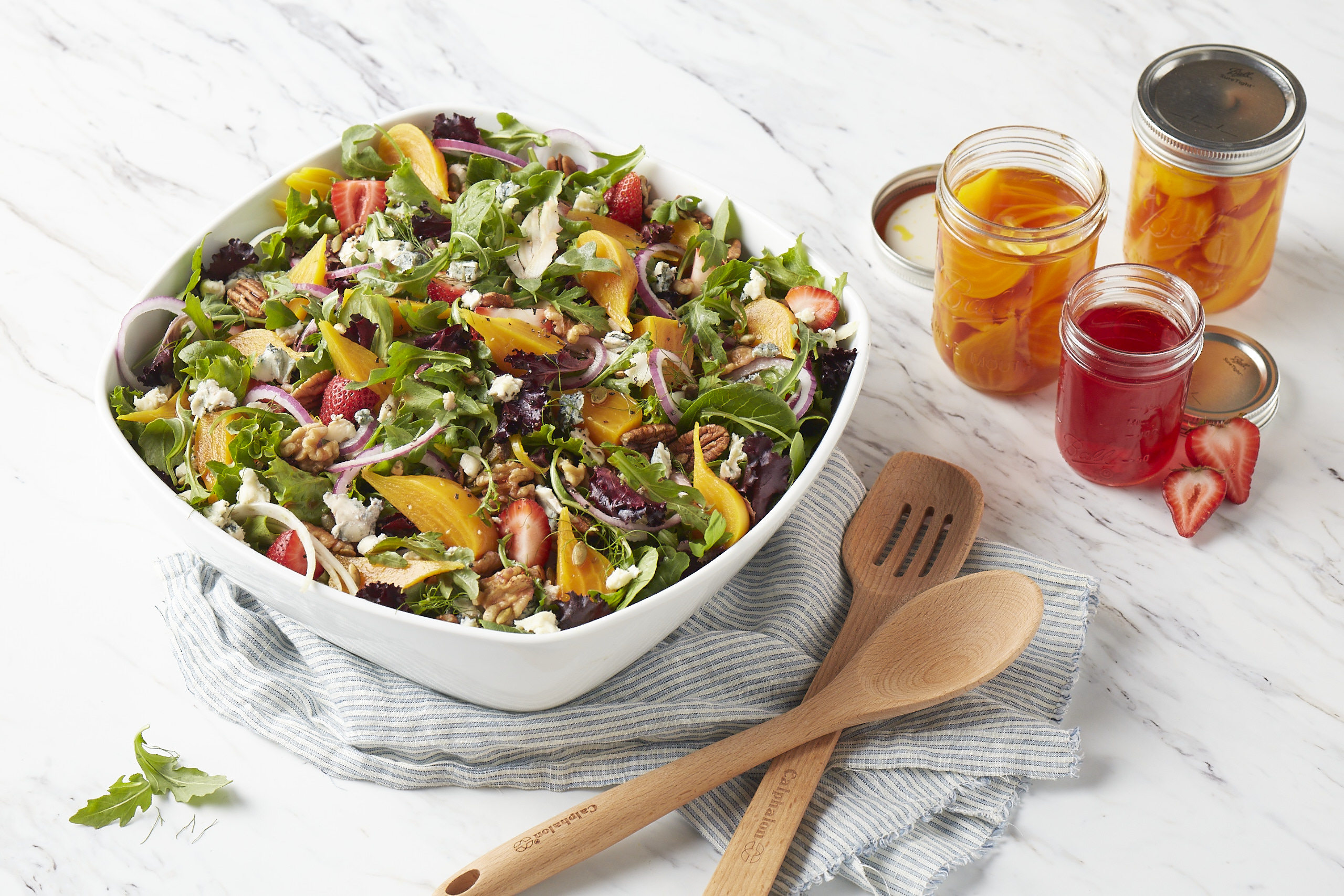 Preserving Method: Water Bath Canning
Makes about 4 pint Wide Mouth jars
This recipe works with red beets, too, but golden beets are less likely to stain your fingers or your apron. Recipe excerpted from The All New Ball® Book of Canning and Preserving, published by Oxmoor House (2016).
---
You will need
4 lb. (2 kg) (3-inch/7.5-cm- diameter) golden beets
2 ½ cups (625 mL) white vinegar (5% acidity)
1 ¼ cups (300 mL) water
1 ¼ cups (300 mL) sugar
1 tsp. (5 mL) Ball® Salt for Pickling & Preserving
8 whole cloves
1 (3-inch/7.5-cm) cinnamon stick
2 (2- to 2 ½ inch/5- to 6-cm-diameter) onions, thinly sliced
Directions
Trim beets, leaving 1 inch (2.5 cm) of stem, and scrub. Bring beets to a boil in water to cover in a large saucepan; reduce heat, and simmer 25 to 30 minutes or until tender. Drain, rinse, and cool slightly. Trim off roots and stems; peel beets. Cut beets in half vertically; cut halves crosswise into ¼-inch (0.5 cm)-thick slices to measure 6 cups (1.5 L).

Stir together vinegar and next 5 ingredients in a 6-qt. (6-L) stainless steel or enameled Dutch oven. Bring mixture to a boil. Add beets and onion; reduce heat, and simmer 5 minutes. Remove and discard spices.

Pack beets and onion into a hot jar with a slotted spoon, leaving ½-inch (1-cm) headspace. Ladle hot pickling liquid over beet mixture, leaving ½-inch (1-cm) headspace. Remove air bubbles. Wipe jar rim. Center lid on jar. Apply band, and adjust to fingertip-tight. Place jar in boiling-water canner. Repeat until all jars are filled.

Process jars 30 minutes, adjusting for altitude. Turn off heat; remove lid, and let jars stand 5 minutes. Remove jars and cool.