Pickled Cauliflower
Pickled Cauliflower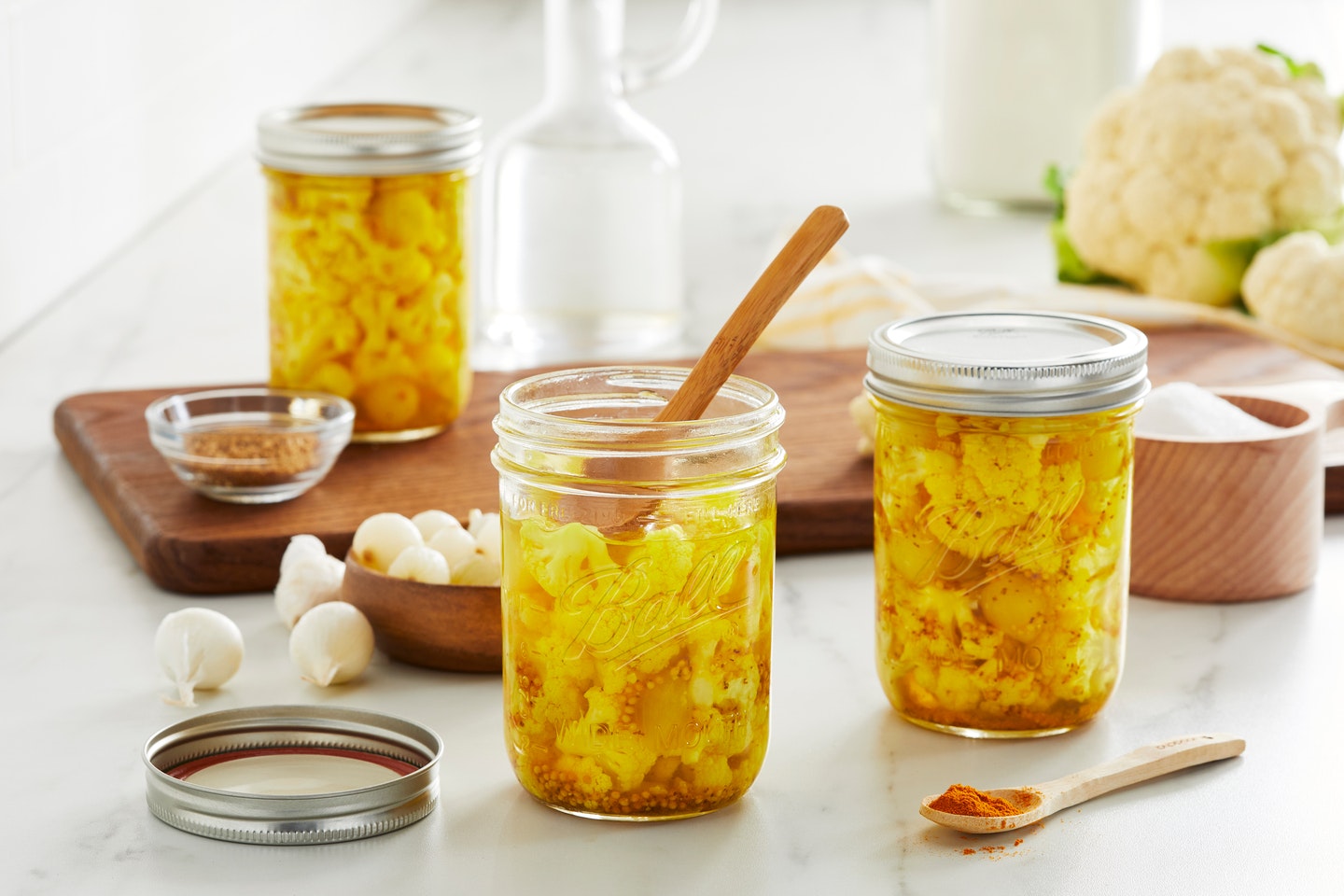 Preserving Method: Water Bath Canning
Makes about Makes about 5 (16oz) pint jars

Pickled cauliflower is tasty and versatile. It spices up salads and adds a lot of crunchy flavor to veggie burritos and quesadillas.
---
You will need
3 quarts cauliflower florets (about two large heads)
1 1/2 cups pearl onions
1/4 cup Ball Salt for Pickling & Preserving
4 cups white vinegar
2 cups sugar
2 tablespoons mustard seed
1 tablespoon celery seed
1 teaspoon turmeric
1 hot red pepper (optional)
Ball Pickle Crisp (optional)
5 (16 oz) pint jars

Directions
Combine cauliflower, onions, and salt in a large bowl and cover with ice. Let stand 2 to 3 hours in refrigerator. Drain; rinse and drain thoroughly.
Prepare boiling water canner. Heat jars in simmering water until ready to use, do not boil. Wash lids in warm soapy water and set aside with bands.
Combine vinegar, sugar, mustard seed, celery seed and turmeric in a large saucepan. Add hot pepper, if desired by cutting a small slit in hot pepper on tow opposite sides. Bring mixture to a boil. Add cauliflower and onions. Reduce heat to a simmer (180°F); simmer 5 minutes. Remove hot pepper and discard.
Pack hot vegetables and pickling liquid into a hot jar, leaving 1/2-inch headspace. Add 1/8 teaspoon Pickle Crisp to jar, if desired. Remove air bubbles. Clean jar rim. Center lid on jar and adjust band to fingertip-tight. Place jar in boiling water canner. Repeat until all jars filled.
Process jars 15 minutes, adjusting for altitude. Turn off heat, remove lid, let jars stand 5 minutes. Remove jars and cool 12-24 hours. Check lids for seal, they should not flex when center is pressed.