Italian-Style Tomato Sauce
Italian-Style Tomato Sauce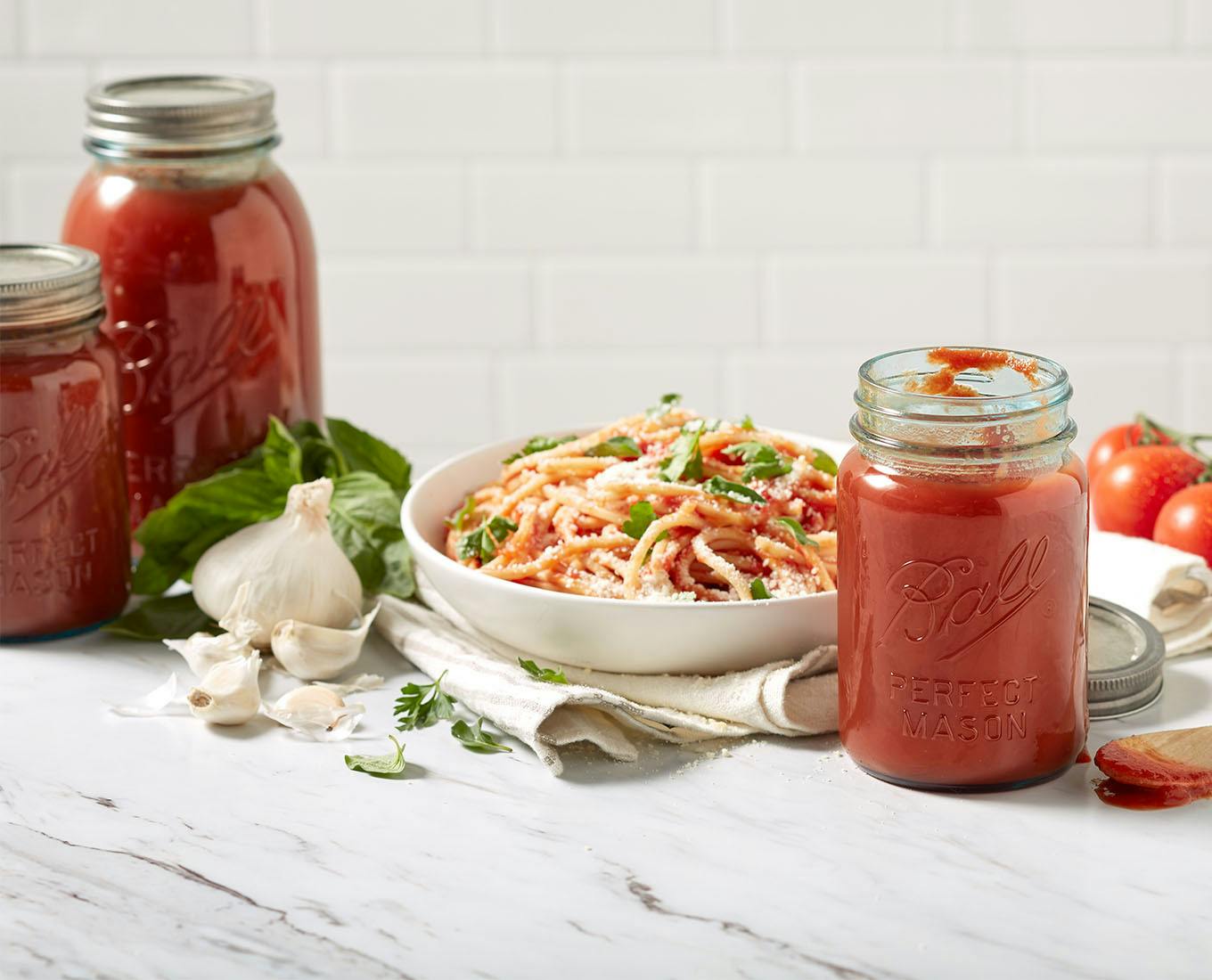 Preserving Method: Water Bath Canning
Makes about 3 (16 oz) pints

This recipe delivers traditional Italian flavor with no oil and balances the quantity of low-acid vegetables with added acid (lemon juice) for waterbath canning. Altering ingredients or quantities may result in an unsafe product, due to a change in the pH balance.
---
You will need
8 cups fresh plum tomato purée

2/3 cup finely chopped onion

2/3 cup finely chopped celery

1/2 cup finely chopped carrot

2 cloves garlic, finely chopped

4 tbsp bottled lemon juice

2 tsp salt

1/2 tsp freshly ground black pepper

1/2 tsp hot pepper flakes

3 Ball® (16 oz) pint glass preserving jars with lids and bands

Optional: Ball® freshTECH Electric Water Bath Canner + Multicooker

Directions
Prepare boiling water canner. Heat jars in simmering water until ready for use. Do not boil. Wash lids in warm soapy water and set bands aside.

Combine 1 cup of tomato purée, onion, celery, carrot and garlic in a large stainless steel saucepan. Bring to a boil over medium-high heat, stirring frequently. Reduce heat, cover and boil gently until vegetables are tender, about 5 minutes. While maintaining a steady boil, add remaining tomato purée, 1 cup at a time, stirring frequently. Stir in lemon juice, salt, black pepper and hot pepper flakes. Increase heat to high and bring to a full rolling boil; boil hard, stirring frequently, until mixture is reduced by one third, about 15 minutes.

Ladle hot sauce into hot jars leaving 1/2 inch headspace. Remove air bubbles and re-measure headspace. If needed, add more sauce to meet recommended headspace. Wipe rim. Center lid on jar. Apply band and adjust until fit is fingertip tight.

Process filled jars in a boiling water canner for 35 minutes, adjusting for altitude. Remove jars and cool. Check lids for seal after 24 hours. Lid should not flex up and down when center is pressed.