Grandma's Chili Sauce
Grandma's Chili Sauce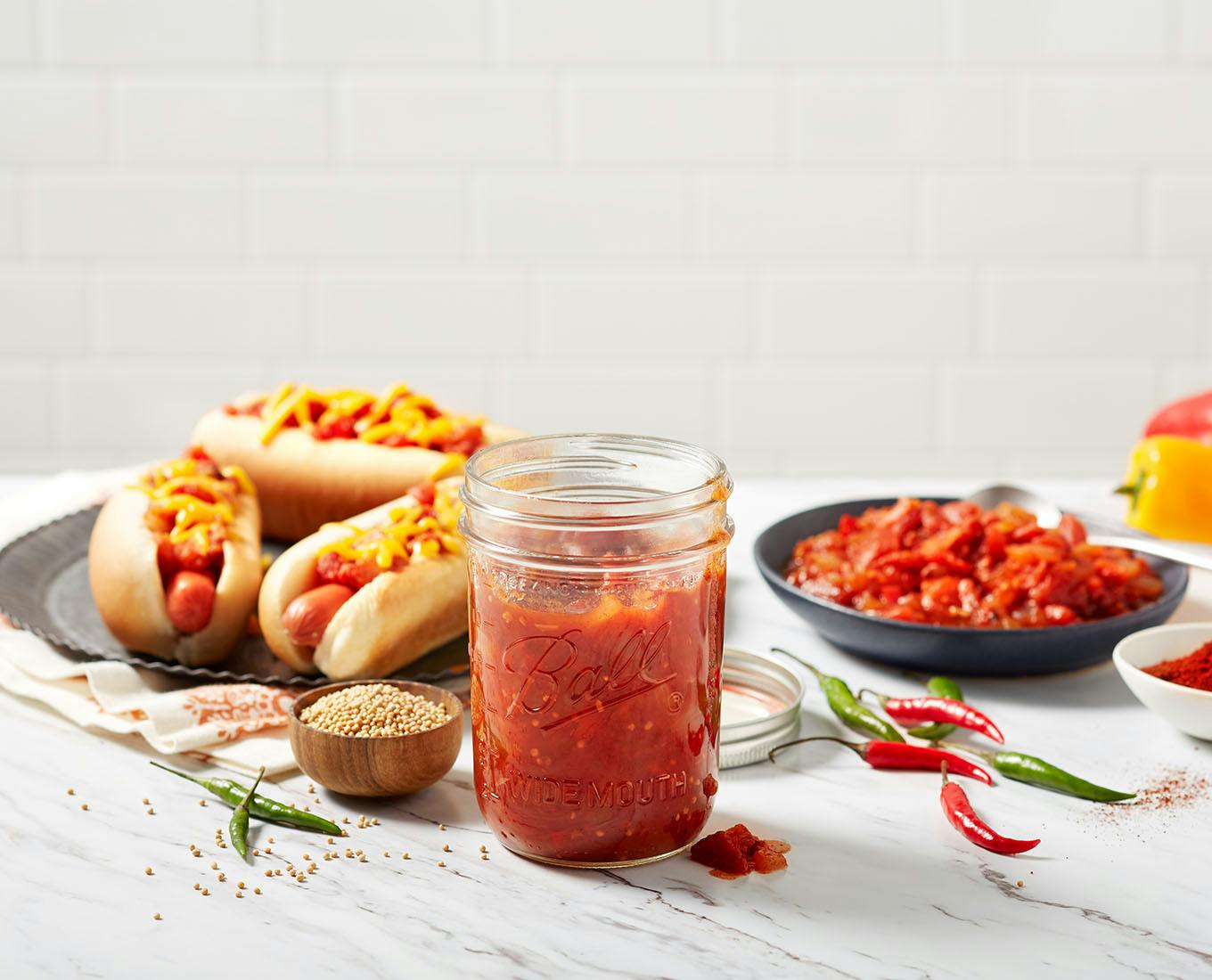 Preserving method: Water bath canning
Makes about 7 (16 oz) pints

Just like Grandma used to make! Try this classic chili sauce as a garnish to any dish.
---
You will need
16 cups chopped cored peeled tomatoes (about 16 medium)

6 onions, chopped

6 green bell peppers, seeded and chopped

2 red bell peppers, seeded and chopped

2 cups white vinegar

1 cup lightly packed brown sugar

1 clove garlic, finely chopped

1 Tbsp. freshly grated or drained bottled horseradish, optional

1 Tbsp. celery salt

1 Tbsp. mustard seeds

1 Tbsp. salt

1 tsp. ground allspice

1 tsp. ground cinnamon

1 tsp. ground mace or nutmeg

1/4 tsp. ground cloves

7 Ball® (16 oz) pint glass preserving jars with lids and bands

Optional: Ball® freshTECH Electric Water Bath Canner + Multicooker

Directions
Combine tomatoes, onions, green and red peppers, vinegar, brown sugar, garlic, horseradish, if using, celery salt, mustard seeds and salt in a large stainless steel saucepan. Bring to a boil over high heat, stirring frequently. Reduce heat and boil gently, stirring occasionally, for 1-1/2 hours, until sauce begins to thicken. Add allspice, mace, cinnamon and cloves. Continue to boil gently, stirring occasionally, until thickened and sauce begins to mound on a spoon, about 30 minutes.

Prepare boiling water canner. Heat jars in simmering water until ready for use. Do not boil. Wash lids in warm soapy water and set bands aside.

Ladle the hot chili sauce into hot jars, leaving 1/2 inch headspace. Remove air bubbles and adjust headspace, if necessary, by adding hot sauce. Wipe rim. Center lid on jar. Apply band until fit is fingertip tight.

Process jars in a boiling water canner for 20 minutes, adjusting for altitude. Remove jars and cool. Check lids for seal after 24 hours. Lid should not flex up and down when center is pressed.