Enchilada Sauce
Enchilada Sauce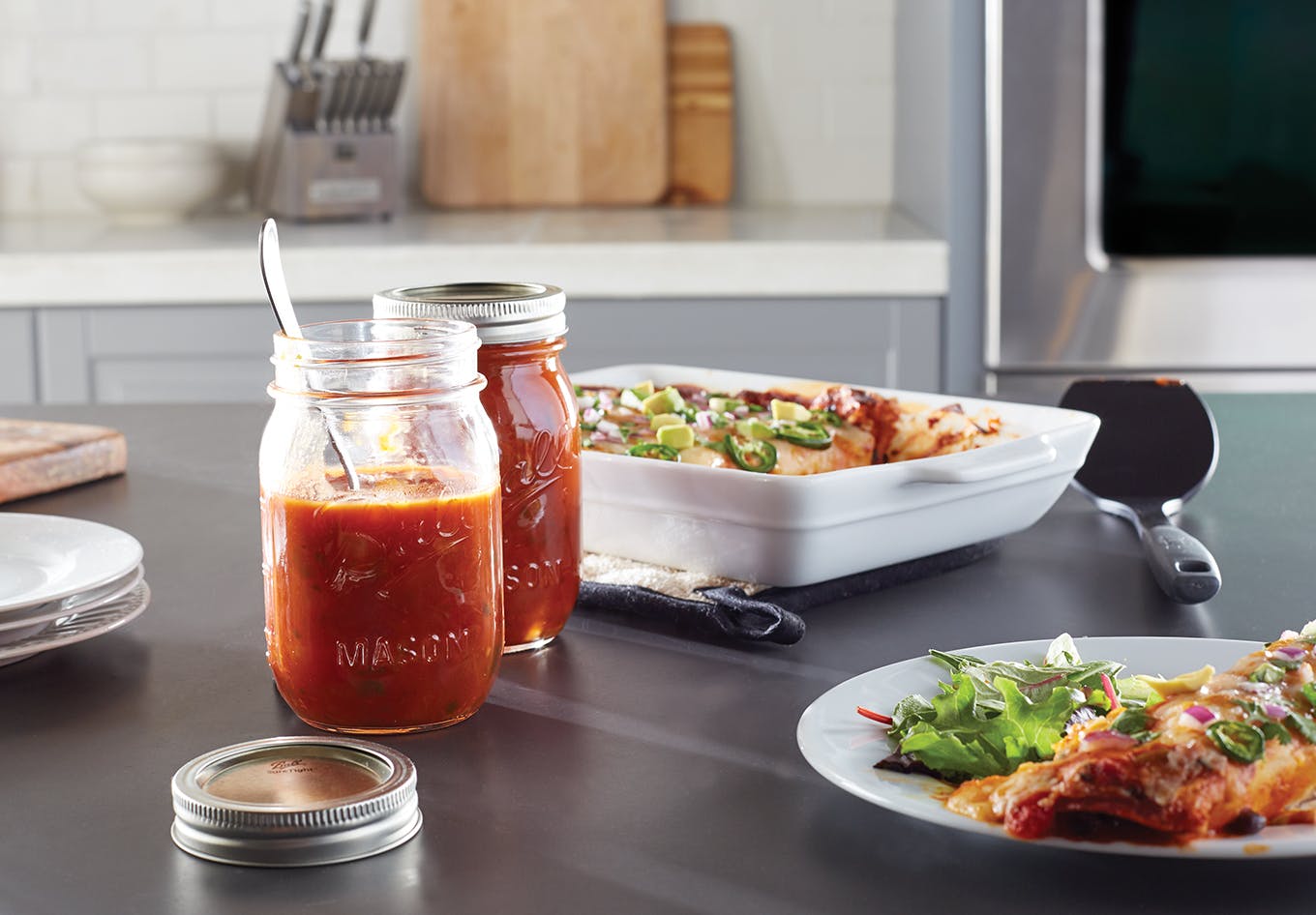 Preserving Method: Pressure Canning
Makes about 8 pint jars
This enchilada sauce is sweet with caramelized onions and just spicy enough to be a versatile pantry staple. The amount of New Mexican chiles may seem daunting, but they are easy to work with and make the flavorful base of the recipe.
Recipe excerpted from The All New Ball Book of Canning and Preserving, published by Oxmoor House (2016).
---
You will need
12 dried New Mexican chile peppers
2 cups boiling water
4 garlic cloves, minced
1 Tbsp. olive oil
5 cups coarsely chopped onion (about 4 large onions)
6 cups canned, diced tomatoes
1⁄2 cup firmly packed dark brown sugar
2 Tbsp. chili powder
2 tsp. salt
2 tsp. ground cumin
1 tsp. ground red pepper
Directions
Rinse any dirt from dried chiles, and pat dry with a paper towel. Toast peppers on a very hot griddle, or in a skillet, 8 to 10 seconds on each side or just until beginning to puff and blister. (Do not allow peppers to burn or they will become bitter.) When cool enough to handle, remove and discard stems and seeds from chiles; tear into large pieces and place in a medium bowl. Cover with boiling water. Let stand 20 minutes or until softened. Drain, reserving 1 cup soaking liquid.

Sauté garlic in hot oil in a 6-qt. stainless steel or enameled Dutch oven over medium-high heat 30 seconds. Stir in onion. Cover and cook, stirring often, 10 minutes or until onion is tender. Uncover and cook, stirring often, 5 to 10 minutes or until onions are caramel colored. Stir in tomatoes, next 5 ingredients, softened chiles, and reserved soaking liquid. Remove from heat.

Process tomato mixture, in batches, in a blender until smooth. Return pureed mixture to Dutch oven. Bring to a boil; reduce heat, and simmer, uncovered, stirring often, 25 minutes or until sauce is thick and darkens in color. (As sauce thickens, partially cover Dutch oven to avoid splatters.)

Ladle hot enchilada sauce into a hot jar, leaving 1-inch headspace. Remove air bubbles. Wipe jar rim. Center lid on jar. Apply band, and adjust to fingertip-tight. Place jar on rack in a pressure canner containing 2 inches of simmering water (180°F). Repeat until all jars are filled.

Place lid on canner, and turn to locked position. Adjust heat to medium-high. Vent steam for 10 minutes. Place the counter weight or weighted gauge on vent; bring pressure to 10 pounds (psi) for a weighted-gauge canner or 11 pounds (psi) for a dial-gauge canner.

Process 1-pt. jars for 50 minutes. Turn off heat; cool canner to zero pressure. Let stand 5 more minutes before removing lid. Cool jars in canner 10 minutes. Remove jars and cool.
*Use this as a braising sauce for chicken or pork, add it to cooking beans, or drizzle it on fish tacos, fajitas, and huevos rancheros