Cinnamon Watermelon Rind Pickles
Cinnamon Watermelon Rind Pickles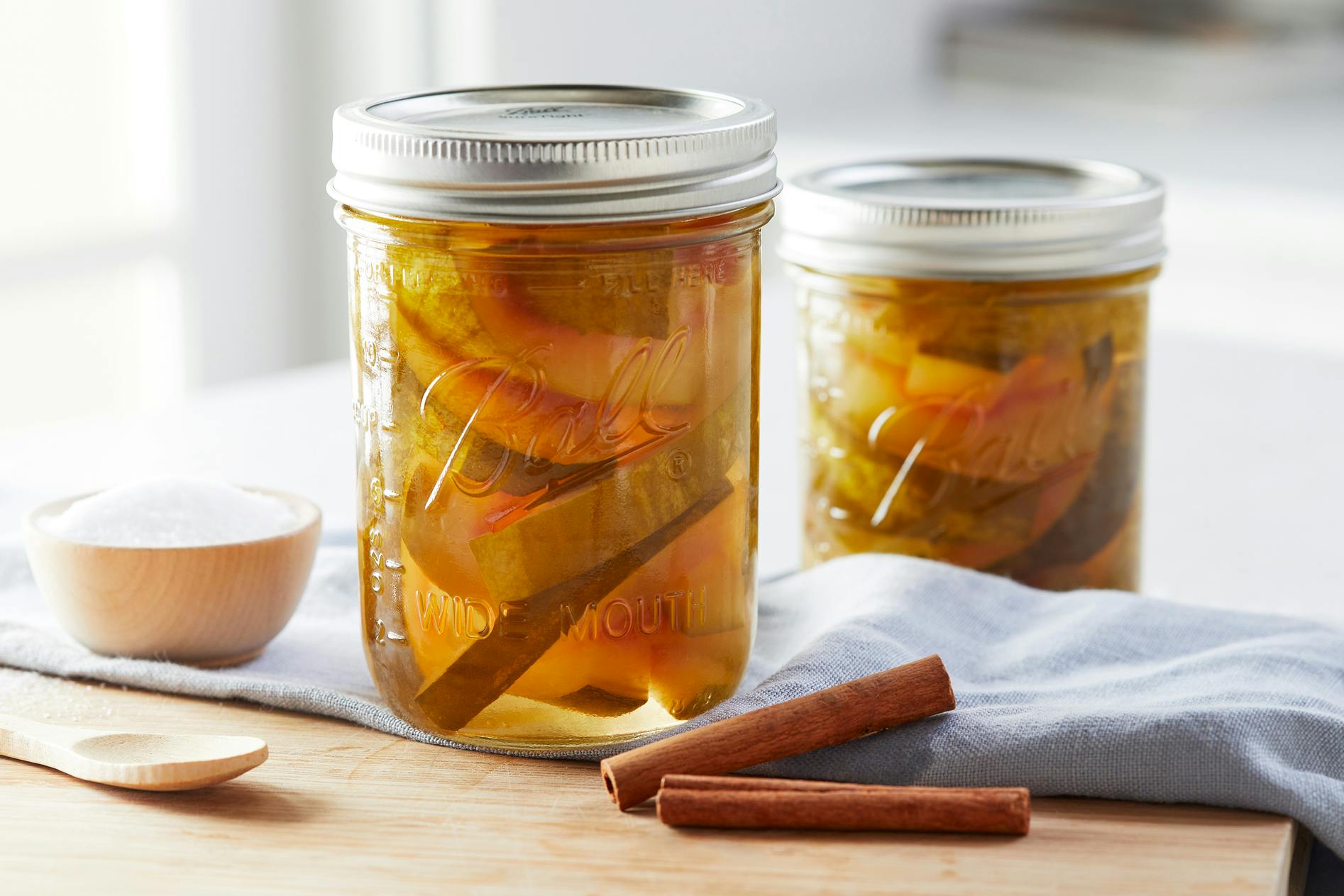 Preserving Method: Water-Bath-Canning
Makes about 5 (16 oz) pint jars
Make the most of your watermelon! After eating the juicy red watermelon, use the peeled rind to make this sweet, cinnamon-flavored pickle. These are perfect for summertime picnics and barbeques or to perk up cold-weather meals.
---
You will need
16 cups sliced peeled watermelon rind (about 2 medium)

1 cup Pickling or Canning Salt

6 cups granulated sugar

4 cups white vinegar

3 cinnamon sticks, broken in half
Directions
DAY 1:
Layer watermelon rinds and salt in a large glass or stainless-steel bowl, cover with cool water. Place a large clean inverted plate on top of the rind and weigh down with one or two quart jars filled with water and capped. Cover with plastic wrap or a clean towel and refrigerate for 8 hours or overnight.
DAY 2:
Transfer rind to a colander placed over a sink. Drain and rinse in cool running water. Drain and rinse again. Drain thoroughly.

Place rind and water to cover in a large stainless-steel saucepan. Bring to a boil over medium-high heat. Reduce heat and boil gently until rind is fork-tender, about 10 minutes. Drain and set aside.

Combine sugar, vinegar and cinnamon stick halves in a clean large stainless-steel saucepan. Bring to a boil over medium-high heat, stirring to dissolve sugar. Reduce heat and boil gently for 5 minutes, until cinnamon has infused the liquid. Add drained rind and return to a boil. Reduce heat and boil gently, stirring occasionally, for 1 hour, until watermelon is translucent. Discard cinnamon sticks.

Prepare boiling water canner. Heat jars in simmering water until ready for use. Do not boil. Wash lids in warm soapy water and set aside with bands.

Pack hot rind into a hot jar leaving ½ inch headspace. Ladle hot pickling liquid into jar to cover rind leaving ½ inch headspace. Remove air bubbles. Wipe jar rim. Center lid on jar. Apply band and adjust to fingertip-tight. Place jar in boiling-water canner. Repeat until all jars are filled.

Process jars 15 minutes, adjusting for altitude. Turn off heat, remove lid, let jars stand 5 minutes. Remove jars and cool 12-24 hours. Check lids for seal, they should not flex when center is pressed.