Chow Chow | Fresh Preserving
Chow Chow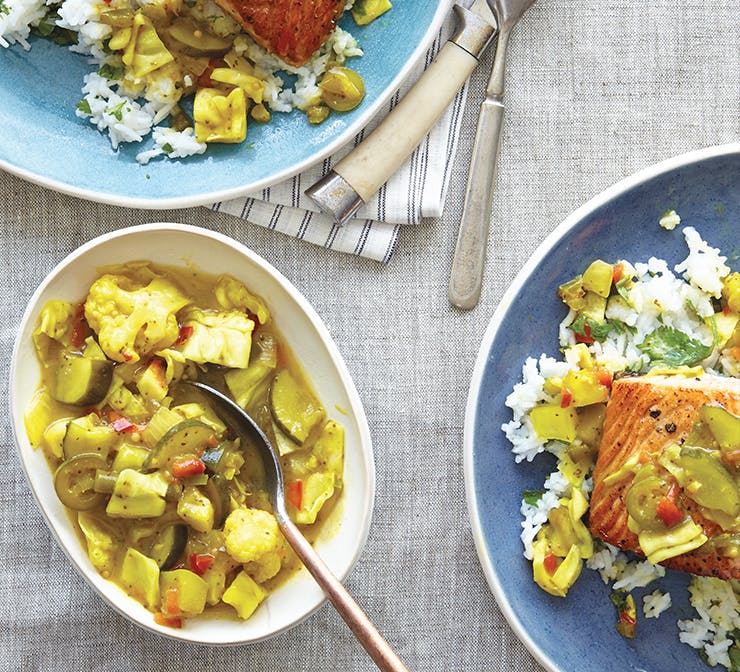 Preserving Method: Water Bath Canning
Makes about 12 pints or 6 quarts

This piquant condiment has roots in Southern states. Recipe excerpted from The All New Ball Book of Canning and Preserving, published by Oxmoor House (2016).
---
You will need
1 1⁄2 lb. pickling cucumbers

2 lb. Vidalia, or other sweet onions, finely chopped

1 1⁄2 lb. green tomatoes, cored and finely chopped

1 small head cabbage (about 21⁄2 lb.), cut into 1-inch dice

3⁄4 cup Ball® Salt for Pickling and Preserving

2 qt. water

4 tsp. kosher salt, divided

1⁄2 lb. green beans, cut into 1-inch pieces

1 small head cauliflower (about 11⁄2 lb.), broken into florets.

2 qt. apple cider vinegar (5% acidity)

1⁄2 cup prepared horseradish

2 Tbsp. mustard seeds

1⁄2 tsp. celery seeds

4 garlic cloves, minced

3 medium-size green bell peppers, finely chopped

2 medium-size red bell peppers, finely chopped

3 jalapeño peppers, seeded and finely chopped

2 cups firmly packed light brown sugar

1⁄2 cup Dijon mustard

1 Tbsp. ground turmeric

1 tsp. curry powder

12 Ball® Pint Glass Preserving Jars or 6 Ball® Quart Glass Preserving Jars with Lids and Bands
Optional: Ball® freshTECH Electric Water Bath Canner + Multicooker
Directions
1. Quarter cucumbers lengthwise; cut crosswise into 1⁄4-inch slices. Layer cucumber slices, onions, tomatoes, and cabbage in a 1-gal. food-grade plastic container with a tight-fitting lid.
2. Dissolve pickling salt in 2 qt. water. Pour salt water over vegetables in container, adding up to 2 cups additional water, if necessary, to cover vegetables; secure lid on container. Chill overnight. Drain; rinse 2 or 3 times under cold running water. Drain and place in a large bowl.
3. Bring a 6-qt. pot of water and 1 Tbsp. kosher salt to a boil. Fill a large bowl with ice water. Blanch green beans in boiling salted water for 2 minutes; transfer beans to ice water with a slotted spoon. Drain and add to cabbage mixture. Repeat procedure with cauliflower.
4. Bring vinegar to a boil in a large stainless steel or enameled stock pot. Add horseradish and next 3 ingredients; reduce heat, and simmer 3 minutes. Add bell peppers and jalapeño peppers. Return to a boil; add brown sugar, next 3 ingredients, and remaining 1 tsp. kosher salt. Return to a boil; carefully add drained vegetables. Bring to a boil, stirring often. Reduce heat, and simmer, uncovered, 10 minutes or until vegetables are thoroughly heated.
5. Ladle hot chowchow into a hot jar, leaving 1⁄2-inch headspace. Remove air bubbles. Wipe jar rim. Center lid on jar. Apply band, and adjust to fingertip-tight. Place jar in boiling-water canner. Repeat until all jars are filled.
6. Process 1-pt. jars 25 minutes or 1-qt. jars 30 minutes, adjusting for altitude. Turn off heat; remove lid, and let jars stand 5 minutes. Remove jars and cool