Smoky Sweet Barbecue Sauce
Smoky Sweet Barbecue Sauce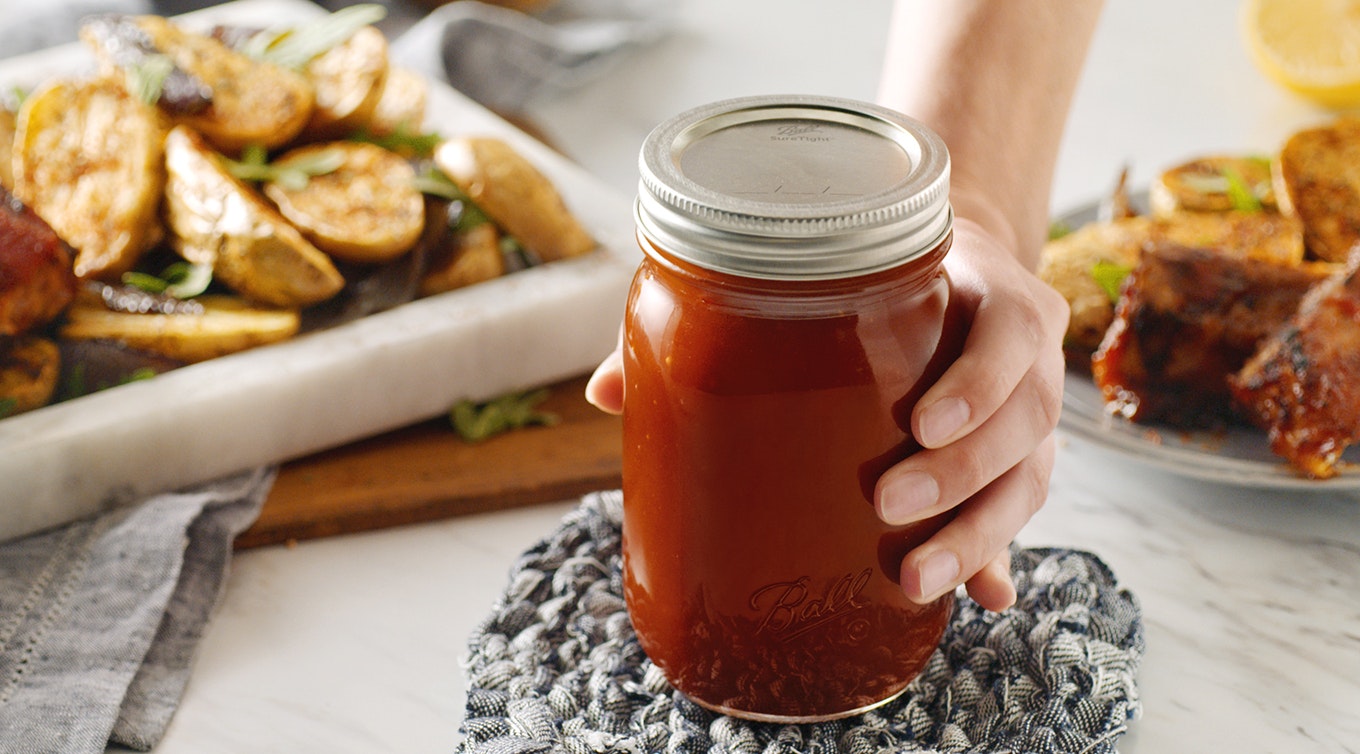 Preserving method: Water bath canning
Makes About: 6 pint jars (16 oz)
Every home cook needs a good barbecue sauce recipe in their back pocket. Whether you're grilling, hosting a game day party, or cooking a weeknight meal, our Smoky Sweet Barbecue Sauce is guaranteed to bring the flavor you're looking for.
---
Ingredients
12 lbs. chopped peeled tomatoes (about 5 quarts)
3 cups finely chopped onion
4 cloves garlic, chopped
1 1/2 cups apple cider vinegar
½ cup bourbon
2 cups dark brown sugar
1 Tbsp. garlic powder
1 Tbsp. mustard powder
2 Tbsp. smoked paprika
½-1 tsp. cayenne pepper
2 tsp. chili flakes
2 Tbsp. salt
---
In This Recipe
1. Combine tomatoes, onion and garlic in a large stock pot and bring to a boil; lower heat and simmer 30 minutes or until vegetables are very soft. Working in batches puree vegetables until smooth with Harvest Pro food mill, or in the bowl of a food processor.
2. Return tomato mixture to the pot and add remaining ingredients, bring to a boil over high heat, stirring frequently. Lower heat and simmer until thickened and darker in color, about 1 ½-2 hours, stirring occasionally to prevent scorching.
3. Prepare boiling water canner while sauce is cooking. Heat jars in simmering water until ready to use, do not boil. Wash lids in warm soapy water and set aside with bands.
4. Ladle hot BBQ sauce into a hot jar leaving a ½ inch headspace. Remove air bubbles. Wipe jar rim. Center lid on jar and apply band, adjust to fingertip tight. Place jar in boiling water canner. Repeat until all jars are filled.
5. Process jars 20 minutes, adjusting for altitude. Turn off heat, remove lid, let jars stand 5 minutes. Remove jars and cool 12-24 hours. Check lids for seal, they should not flex when center is pressed.
Pairs well with: Ribs