Bruschetta in a Jar
Bruschetta in a Jar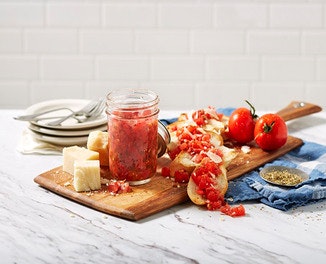 Preserving Method: Water-Bath-Canning
Makes about 7 (8 oz) half- pint jars

Impress your friends with Ball®'s Tomato Bruschetta in a Jar. The fresh taste of ripe tomatoes mixed with garlic, oregano, and basil couples perfectly with the tang of balsamic vinegar to pack a lot of flavor in each jar. Pair these with crostini's for some fancy (but easy) finger food!
---
You will need
9 cups chopped cored plum tomatoes (about 4 lb or 12 medium)

5 cloves garlic, minced

1 cup dry white wine

1 cup white wine vinegar

1/2 cup water

2 Tbsp sugar

2 Tbsp dried basil

2 Tbsp dried oregano

2 Tbsp balsamic vinegar
Directions
Prepare boiling water canner. Heat jars in simmering water until ready for use. Do not boil. Wash lids in warm soapy water and set aside with bands.

Combine garlic, wine, wine vinegar, water, sugar, basil, oregano and balsamic vinegar. Bring to a full rolling boil over high heat, stirring occasionally. Reduce heat, cover and simmer 5 minutes or until garlic is heated through. Remove from heat.

Pack tomatoes into a hot jar leaving a ½ inch headspace. Ladle hot vinegar mixture over tomatoes, leaving a ½ inch headspace. Remove air bubbles. Wipe jar rim. Center lid on jar and apply band, adjust to fingertip tight. Place jar in boiling water canner. Repeat until all jars are filled.

Process jars 20 minutes, adjusting for altitude. Turn off heat, remove lid, let jars stand 5 minutes. Remove jars and cool 12-24 hours. Check lids for seal, they should not flex when center is pressed.