Fermented Tomato Salsa 1- (32 oz) Quart Jar
Fermented Tomato Salsa 1- (32 oz) Quart Jar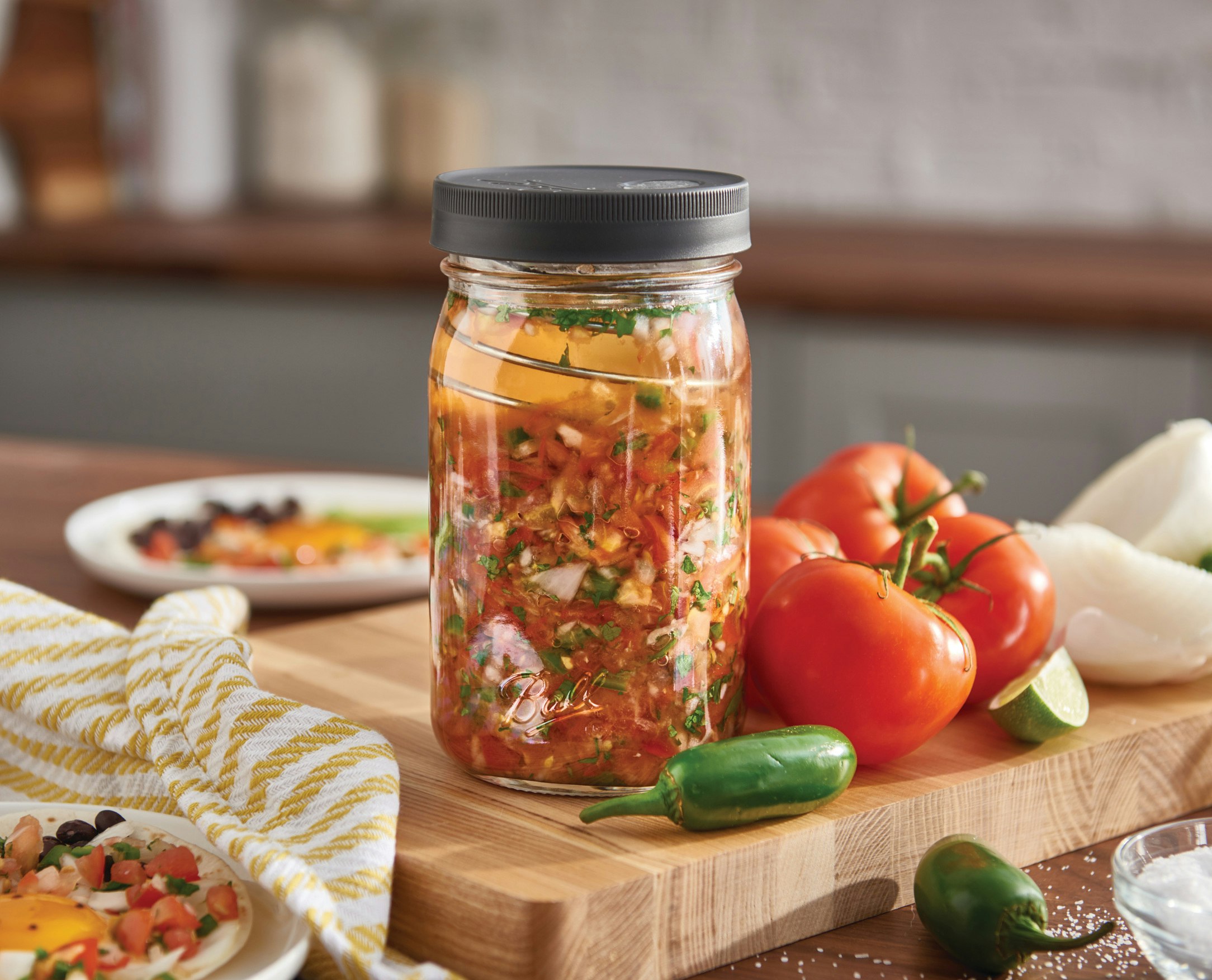 ---
You will need
• 1 ½ -2 lbs tomatoes, small diced
• 1 small onion, finely diced
• 1-2 jalapeno peppers, finely diced
• 2 cloves garlic, minced
• ¼ cup chopped cilantro
• 1 Tbsp lime juice
• 1 tsp Ball® Salt for Pickling and Preserving Please read FAQ insert before beginning.
Directions
1. Combine all ingredients in a bowl and stir to mix; pack into a clean 1 quart jar leaving 2 inches of headspace.
2. Place spring on top of salsa then twist lid on. Brine may billow out and some vegetable pieces may float to the top as the spring displaces salsa.
3. Wipe jar down. Place the jar on a plate and store in a cool (65°-75°) clean place in your kitchen or pantry.
4. After 24 hours, there will be some fermenting activity visible as little bubbles on the top of the brine. Any white film forming in the brine is kham yeast, which is naturally occurring and perfectly safe for your ferment. (see FAQ for more on kham yeast).
5. Fermentation is complete in 48 hours. Salsa will have separated into solids and liquid. This can be stirred before serving or the liquid may be strained out for a thicker salsa.
6. Remove lid and spring, wipe jar rim, and wash fermenting lid before replacing or use a traditional Ball® canning lid.
7. Store in refrigerator. Salsa is best used within 1-2 weeks.