FreshTech Basil Garlic Tomato Sauce
Basil Garlic Tomato Sauce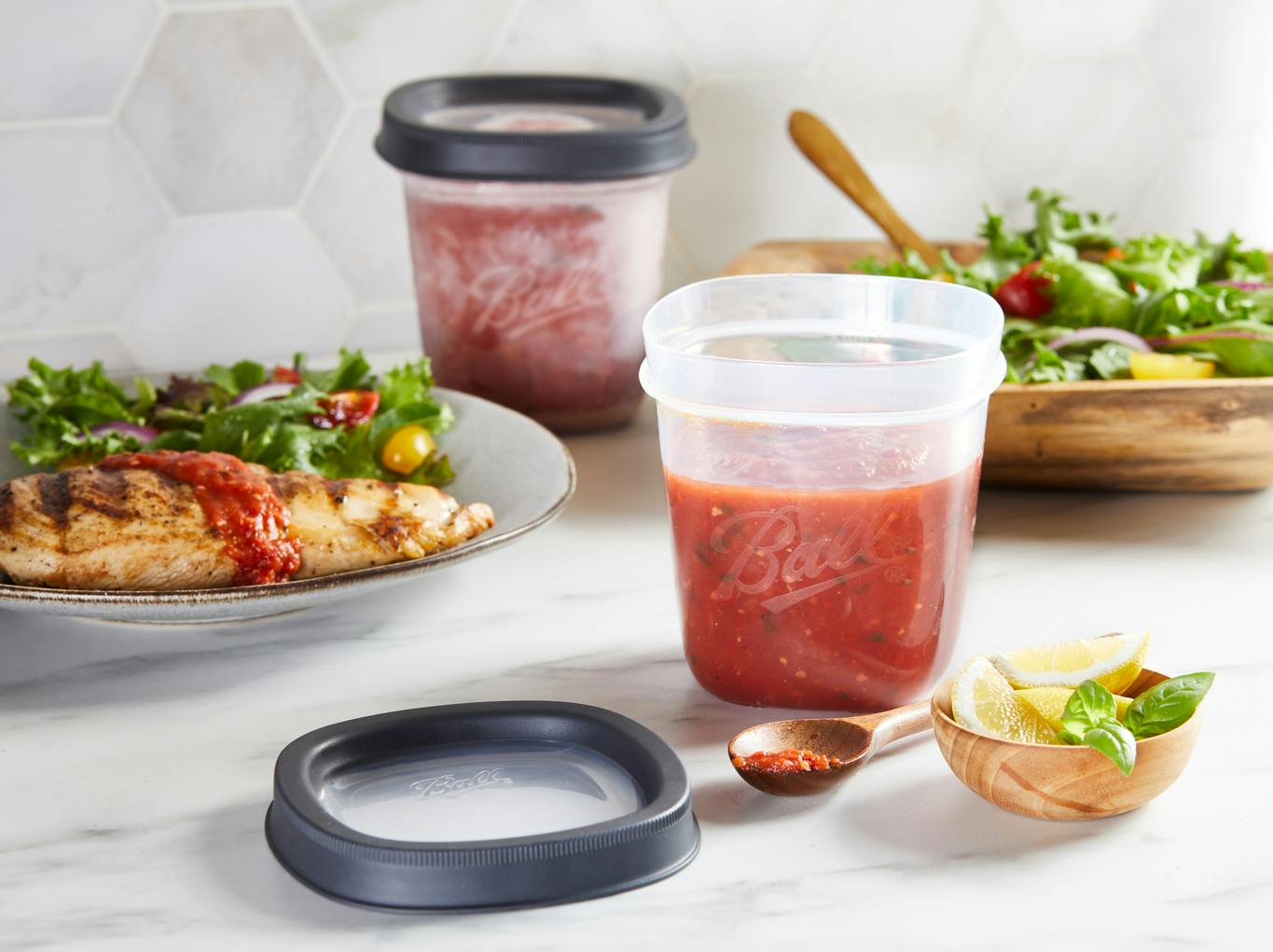 Preserving Method: Freeze/Refrigerate
Makes about 2 (16 oz) pints
Try out this recipe, then make it your own as you discover new twists to this favorite canning recipe. If you are checking out this basil garlic tomato sauce recipe, you get to share our little secret.. the Ball® FreshTECH Automatic Jam & Jelly Maker can do more than just jam and jelly! We now have these delicious "Secret Sauce" recipes using the Jam Maker, and they were just waiting to be discovered by you. Enjoy this basil garlic tomato sauce today! Cook time: 30 Minutes
---
You will need
7 lb tomatoes (about 21 medium)
1/3 cup chopped onion (about 1/3 large)
2 1/2 cloves garlic, minced
1 Tbsp + 1 tsp finely minced fresh basil
1 Tbsp bottled lemon juice per jar
Directions
WASH tomatoes; drain. Remove core and blossom ends. Cut into quarters. Set aside.

SAUTE onion and garlic in olive oil until transparent. Add tomatoes. Bring to a boil. Reduce heat and simmer 20 minutes, stirring occasionally.

PUREE tomato mixture in a food processor or blender, working in batches. Strain puree to remove seeds and peel.

ADD tomato puree and basil evenly over the bottom of the Pot fitted with the Stirrer.

PRESS jam button - the cook time will automatically default to 21 minutes. Press (+) add button until 30 minutes is reached. Press enter. When appliance beeps, place glass lid onto the pot. The appliance will continue to automatically stir your ingredients while it cooks. Stay within earshot of the Jam & Jelly Maker, the appliance will beep again at the end of the process signaling cooking is complete. Press cancel, unplug the appliance and immediately remove glass lid.

REMOVE stirrer using a pot holder.

ENJOY using 1 of the 2 ways listed below.

ENJOY NOW! (Refrigerate up to 1 week)-OR-FREEZE (Up to one year):

COOL to room temperature, about 30 minutes. Ladle sauce into jars. Label.

FREEZE sauce for up to 1 year.
Degree of Difficulty:
Intermediate